Woodland Camo

GP cost

1 Day - 350

GP

7 Days - 1,715 GP

30 Days - 6,825 GP

90 Days - 18,900 GP

Restrictions

Master Sergeant/I

Restricted

Popularity

N/A

Features

Woodland Camouflage
"

Effective Camouflage pattern for operations in forested regions.

"



 

— The Arsenal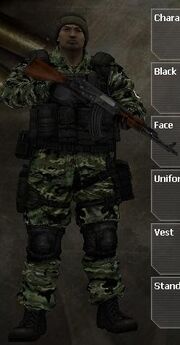 The Woodland Camo Uniform consists of various shades of green to mimic the color of the jungle. This uniform costs 350 GP for 1 day, 1,715 GP for 7 days, 6,825 GP for 30 days, and 18,900 GP for 90 days. Some may wonder, why this camouflage is slightly more expensive than the others even though it features the smallest change in comparison to the default camo. In order to obtain this uniform one must reach the rank of Sergeant First Class/III. This uniform has a unique pattern that sets it apart from the other uniforms. But it is too bright to even blend into it's designed enviorment, makeing it worse than the default uniform in jungle maps. It is rarely seen compared to the Urban and Arctic Camo uniforms.
Ad blocker interference detected!
Wikia is a free-to-use site that makes money from advertising. We have a modified experience for viewers using ad blockers

Wikia is not accessible if you've made further modifications. Remove the custom ad blocker rule(s) and the page will load as expected.