This is a historical page that documents Weapons, Gear, Modes, Maps, Sales, or Events that are no longer available, and as such, information should only be added.
"

Transport Lockers contain rare weapons, gear, functional items, and mercenaries. Whoever opens a Transport Locker will receive a rare weapon, and another mystery item!

"



 

— The Arsenal 
Transport Locker
Information




NX cost

1 Use - 3,500 NX

7 Uses - 22,500 NX

15 Uses - 42,000 NX

Restrictions

Must be Staff Sergeant/I to use NX Credit

Popularity

Average

Features

1 Rare weapon + 1 Surprise item
The Transport Locker is a unique Supply Case added on 12-1-10.
Overview
The Transport Locker is a NX supply case that is similar to the MYST-N crate; however, in addition to holding NX Rare items, it also holds Premium Items (e.g. Weapon Renewal Kit, Respawn Tokens), Mercenaries, and Gear (Backpacks, Head Gear, Face Gear, and vests). Unlike the MYST-N crate, two items are obtained from this supply case, a rare weapon and a surprise item. The case contains rare weapons between 1 and 90 days duration, in addition to gear items between 3 and 90 days.
After an unknown patch in 2011, the Transport Locker retired and was no longer available for purchase.
Trivia
The Transport Locker was released alone without a major patch shortly after the Black Friday 2010 Sale.
The locker is colored green on one side and black on the other side. This is likely used to represent the two obtained items from this supply case.
Most people prefer to buy the MYST-N crate and buy their gear separately because of lower rewards from the Transport Locker.
As of the 3/9/11 maintenance, Transport Lockers were slashed in price. 7% off for 7 and 20% off for 15, to their new price, which will be forever until Nexon decides to change it again.
Until 8/22/11 you can purchase the Transport Lockers at a highly slashed 40%-61% off, after then the cases will be phased out. You could also buy stacks of 30 and 50, which were unavailable when they were not for sale.
Before the Transport Locker retired, it was on sale at a price of 2,000 NX (40% off).
After more than 18 months of absence, the Transport Locker made a surprise return for 24 hours during the One Day Sale, on 1-11-13. It was available at an amount and price of: 1x - 1,050 NX (70% Off).
Media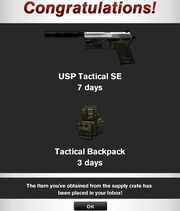 Ad blocker interference detected!
Wikia is a free-to-use site that makes money from advertising. We have a modified experience for viewers using ad blockers

Wikia is not accessible if you've made further modifications. Remove the custom ad blocker rule(s) and the page will load as expected.