This is a historical page that documents Weapons, Gear, Modes, Maps, Sales, or Events that are no longer available, and as such, information should only be added.
Tis the Season to be Gifting was an event that occurred between 12/20/10 - 1/2/11. This event involves players gifting items to others. Players who gifted at least 15,000 NX would recieve 3 free Kalika Cases on January the 5th.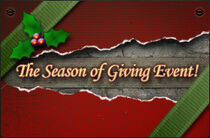 Ad blocker interference detected!
Wikia is a free-to-use site that makes money from advertising. We have a modified experience for viewers using ad blockers

Wikia is not accessible if you've made further modifications. Remove the custom ad blocker rule(s) and the page will load as expected.