The
Player
(
You
,
the
Character
,
Player Character)
is the in-game avatar of any user playing
Combat Arms
.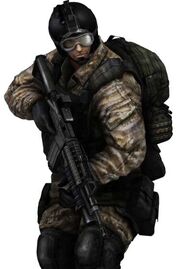 Details
You can equip yourself (the Player) with various weapons and
Gear
via the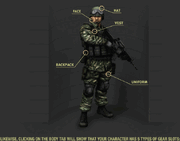 Shop
/
Black Market
. You can also temporarily substitute your character model for another, by utilizing
Mercenaries
or
Specialists
. In-game, you must use the Player to play the game, as you control his/her every move. The Players participate in various missions, and play with or against each other.
Each account can only have one Player, but should the user be unsatisfied with their Player's Name, Name Colour, or Stats, they can be changed using NX items from the Black Market. They can also use another account to have several Players.
Personal Life
Nothing is concrete about the Player's life; because each player has his or her story. So technically, everything is purely limited to your imagination.
These are the details that depend solely on YOU.
Your looks
Your personality
Your faction
Your skill
Your experience
Your intentions
Your rank
Your age
Your gender
Players are also expected to be highly skilled and lucky to some degree, and they can all stand the harsh climates that they will fight in. So the even the cold from Snow Valley or the scorching heat of Desert Fox will not affect the player in any way.
However, it is safe to assume that the Player has survived every encounter that he/she has been involved in (excluding Cabin Fever). 
Storyline
The CA Storyline heavily depends on the Player, and what faction they choose to side with (UAF or Warcorp). His or her actions also affect the outcome of every event.
Although the storyline revolves around the player, whatever happens next (the next map release) is entirely up to Nexon.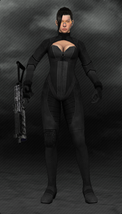 Also, the player is presumed to have survived every single battle so far.
Trivia
Throughout the game, players can temporarily or permanently change their character model. Some ways include Gender Changes, Base Character Changes, buying Mercenaries or Specialists, getting Intels, or getting Infected.
It is commonly believed by many people that their character cannot swim. Even though they are "highly-trained" mercenaries, every player will die when exposed to the waters of Two Towers. However, this is proven to be untrue, as players can navigate the water within "Quarantined" Warhead, and "Quarantined" Neptune.
Things that the Player cannot do in-game include:
Swimming. (Except Warhead Quarantine and Neptune Quarantine)
Using pure melee. (no weapons)
Damaging their gear. (ex. getting water, snow, or sand in their weapons)
Being affected by the climate.
The only confirmed soldiers the player commands are the hired mercenaries.
The player's alliance is unknown (UAF or WarCorp), and it further puts it in question if he belongs to NEMEXIS in the fireteam mission: NEMEXIS Lab, where the player (if selected) turns on his team and follows the order of NEMEXIS' director.
This also proves that the player can be easily swayed by money.
Ad blocker interference detected!
Wikia is a free-to-use site that makes money from advertising. We have a modified experience for viewers using ad blockers

Wikia is not accessible if you've made further modifications. Remove the custom ad blocker rule(s) and the page will load as expected.