This is a historical page that documents Weapons, Gear, Modes, Maps, Sales, or Events that are no longer available, and as such, information should only be added.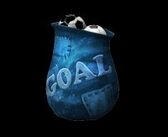 "

A backpack designed like a classic soccer equipment bag.

"



 

— Item Description 
Overview
The Soccer Ball Backpack was a cosmetic variant of the Advanced Backpack used to commemorate the 2010 FIFA World Cup Tournament. A free 30-day Soccer Ball Backpack was distributed on 6/17/10 to users who logged on between 6/11/10 - 6/13/10 in Combat Arms.
Variants
Trivia
This backpack is about the most conspicuous thing that`s ever been given to players. It`s giant, bright blue, and has soccer balls, so it can`t blend into any environment short of a soccer game.
The wearer will also be subjected to many inappropriate jokes, mostly pointing something out along the lines of having a sack of balls on their back.
Gallery
Ad blocker interference detected!
Wikia is a free-to-use site that makes money from advertising. We have a modified experience for viewers using ad blockers

Wikia is not accessible if you've made further modifications. Remove the custom ad blocker rule(s) and the page will load as expected.