Serene Blue Package

Features

NX Cost

Restrictions

None

Popularity

N/A
"

A package for those who love the calming blue color. It's guaranteed to satisfy 100% of your love for the blue color.

"



 

— Item Description 
The Serene Blue Package is a package that made its first appearance on August 5th, 2015. It contains the L115A3 Blue, P90TR Blue and Blue Sickle for permanent.
Trivia
The Serene Blue Package costs the same as buying the L115A3 Red, P90TR Red and Red Sickle individually.
Unlike the Fresh Green Package and Hot Red Package, the Serene Blue Package's item description does not say "Features designs from Syhill."
Gallery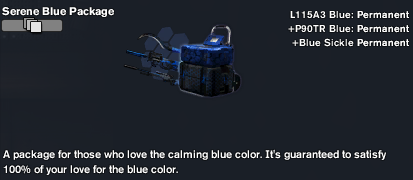 Ad blocker interference detected!
Wikia is a free-to-use site that makes money from advertising. We have a modified experience for viewers using ad blockers

Wikia is not accessible if you've made further modifications. Remove the custom ad blocker rule(s) and the page will load as expected.