Quarantine Regen
Talk

9
2,289pages on
this wiki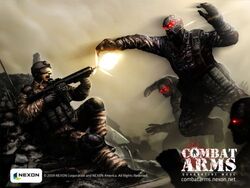 Quarantine Regen
Also known as
Quarantine, Quar, Quar Regen, QR, QT
Objective
Humans: Kill all the Infected and stay alive.
Zombies: Infect every human before time runs out.
Time limit
Rounds: 5, 7, 9,
Time in game per round: 2 minutes and 40 seconds
Pregame: 20 seconds
Player settings
8-16 players. A minimum of four players is required to start a game.
Popularity
Popular
Maps
Released
07/28/09
Edit
"

The physiological stress and fatigue caused by the ongoing war has had soldiers deserting in droves and depressed the morale of those remaining. In a secret project to boost morale and help soldiers last longer in the field, a group of high ranking officers contracted NEMEXIS to produce a new stamina drug. During the final tests, one test subject had an abnormal reaction to the drug. It gave him boosted speed, stamina, and resistance to damage, but also left him a mindless killer. Unfortunately, the subject's blood became a carrier of the mutated drug, causing anyone killed by the subject to become one of the Infected. Fortunately, the only other Infected was killed by the facility's security team and the staff was then evacuated and the place shut down. Now an infiltration mission has been sent to retrieve the drug sample and kill the Infected test subject.

"



 

— Combat Arms Command 
Quarantine Regen (formerly Quarantine) is Combat Arms' 8th Game Mode. It was introduced in the 07-28-09 Patch.
Overview
As the name implies, a group of players have been quarantined within a specific map. Several amongst you have unknowingly been Infected.
Your mission is simple: "Quarantine" the area, making sure The Infection does not spread outside of the map.
The human team will attempt to take down the Infected and stay alive, while the latter tries to eradicate any survivors, infecting them and bolstering their ranks. Players are expected to use their dexterity, skills, reaction time, knowledge of the terrain, and every other survival skill at their disposal to work together and win.