| | |
| --- | --- |
| | This article is need of a Rewrite. You can help out the CAWiki by re-writing the article. The talk page may contain suggestions. |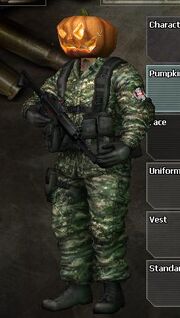 Overview
The Pumpkin Head (formerly known as the Pumpkin Helmet) is a special helmet that can only be purchased during Halloween. Due to its festive holiday looks, and the impressive protection it provides, the Pumpkin Head is increasingly popular amongst players during the Halloween season.
It was first released during the 10/09 Patch, and when available, is often sold at a price of 200 GP per day.
With only a price comparable to the MICH, it allows an astonishing 37% prevention of Headshots, unlike other 200-GP helmets that only have 20% prevention.
Trivia
The name of the helmet is slightly misleading; for it based more closely on a Jack-o'-Lantern, a carved pumpkin (and a separate term), to commemorate the holiday spirit.
Unfortunately, while it may look stylish, the Pumpkin Helmet is bright orange and incredibly large, making it unsuitable for intense combat. Similar to pumpkins in real life, the helmet is often used as target practice for snipers.
For the Daily Elim Event, the Pumpkin Head was released again to everyone who played for 3 whole weeks. It had the same statistics as before, but it only lasted a day and an hour.
During Halloween 2010, the Pumpkin Head was again released for a 7 day period. You had to play 1 hour a day for 5 days from September 29 to October 5, to obtain the helmet. On October 25, the Pumpkin Head was re-released at a price of 900 NX for 7 days.
During Halloween 2011, the Pumpkin Head made an appearance once again. Unlike previous years, the helmet was not given out as a reward for any event this time around. Instead, it could have been bought at a cheap and affordable price for a 7-Day duration.

Ad blocker interference detected!
Wikia is a free-to-use site that makes money from advertising. We have a modified experience for viewers using ad blockers

Wikia is not accessible if you've made further modifications. Remove the custom ad blocker rule(s) and the page will load as expected.