PP-19 CAMO
Information
GP cost

1 Day - 1,800 GP

7 Days - 8,820 GP

30 Days - 35,100 GP

90 Days - 97,200 GP

Supply Crate MYST-G - 4,000 GP

Restrictions

NA - Lieutenant Colonel/V

EU - Colonel/III

Popularity

Low due to rank and rarity

Features

Automatic

Helical Magazine

Ammo capacity

65/65

Statistics

| | |
| --- | --- |
| Damage | 37 |
| Portability | 80 |
| Rate of Fire | 82 |
| Accuracy | 70 |
| Recoil | 75 |

Firing modes
Modifications
"

A camouflaged version of the PP-19, modified to enhance power.

"



 

— Weapon Description 
The PP-19 CAMO is the GP Rare variant of the PP-19. Aside from its different color scheme, it has increased firepower making it an even deadlier weapon. The muzzle is shorter than the normal PP-19.
It can be found in Supply Crate MYST-G, Supply Case PP-N (no longer available), Supply Case SMG (no longer available) and Gray Hi-Secs, as well as Black Hi-Secs. It is available for GP purchase at Lieutenant Colonel/V.
Variants
Variants

PP-19

PP-19 CAMO

PP-19 MOD
Visionary PP-19 MOD

(ACE) PP-19 MOD
Russian PP-19 MOD

PP-19 MOD CAMO

Scorpion's PP-19 MOD
Media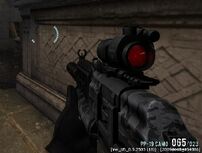 Ad blocker interference detected!
Wikia is a free-to-use site that makes money from advertising. We have a modified experience for viewers using ad blockers

Wikia is not accessible if you've made further modifications. Remove the custom ad blocker rule(s) and the page will load as expected.