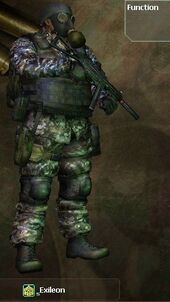 Male means boy or man. They are one of the two genders in the game, and they were the first gender introduced into the game before their Female counterparts arrived a few months after the official launch.
In-Game History
Almost everyone who made an account for Combat Arms before the 12-16-08 Patch knows that there were only four Base Characters to choose from at that time, all whom were male and although they were cosmetically  different looking, they were all equal statistically. If one is in a public match today, they'll see that most characters are males. Male soldiers are average in height, width, etc. and perform just as well as the Female units.
Male characters had it tough after the debut of the female Mercenaries, Base Characters, and Specialists. The female's slim-ish bodies were rumored to have a smaller chance of getting hit, while other rumors say that females were slightly faster than men. What made it even worse was the introduction of the Nut Shot. Supposedly an April's Fools joke, the ability let players take down male characters with one shot in the crotch, like a Headshot. Females don't have this weakness, causing an uproar and complaints of balancing problems. This was solved months later after the Nut Shot was changed to not have a one-shot-kill ability, but it is still there with normal damage rating.
There are more male characters in the game than the females. The males have 5 Base Characters (4 public, while one is secret), Mercenaries Deckland, Zadan, Rocco, and Hauser, and Specialists Captain Souza, Codename:Scorpion and Codename:Hawk. This totals up to 12 male characters, compared to the seven (7) female characters.
Trivia
There is a rumour that male base characters have lower recoil when firing weapons.
Some competitions like WOGL and ICOG only allow male base players to participate.
Ad blocker interference detected!
Wikia is a free-to-use site that makes money from advertising. We have a modified experience for viewers using ad blockers

Wikia is not accessible if you've made further modifications. Remove the custom ad blocker rule(s) and the page will load as expected.