M24 Woodland
Information
GP cost

1 Day - 1,200 GP

7 Days - 5,880 GP

30 Days - 23,400 GP

90 Days - 64,800 GP

Restrictions

First Lieutenant/V

Popularity

Low due to rank restriction

Features

Pre-attached Scope

Ammo capacity

7/21?

Statistics

| | |
| --- | --- |
| Damage | 90 |
| Portability | 51 |
| Rate of Fire | 15 |
| Accuracy | 100 |
| Recoil | 60 |

Firing modes
Modifications
Customization
"

A woodland camouflaged version of the M24.

"



 

— The Arsenal 
Overview
The M24 Woodland is a Cosmetic Variant of the M24 Sniper Rifle. It is painted green-black camo, and retains the same stats as its base rifle, except for heightened portability. It is currently the most portable sniper rifle in the game, having one more portability than the MSR.
Variants
Variants

M24

M24 Woodland

M24A3

(ACE) M24A3

M24A3 Woodland
Trivia
After the 3-25-09 Patch, the M24 Woodland received increase in portability in an attempt to make it more popular.
Despite being called 'Woodland,' this rifle doesn't actually use woodland camo, and is more along the lines of an urban camo.
There is a slight red tinge at the end of the gun's barrel.
Media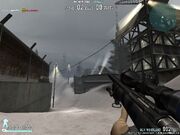 Ad blocker interference detected!
Wikia is a free-to-use site that makes money from advertising. We have a modified experience for viewers using ad blockers

Wikia is not accessible if you've made further modifications. Remove the custom ad blocker rule(s) and the page will load as expected.