Leprechaun's Beard

How to obtain

Log in during the St. Patrick's event

Features

+ 3 Speed

The Leprechaun's Beard is only available during St. Patrick's Day events, and is one of the first commemorative items to be released in honor of St. Patrick's Day.
Overview
It is a face item that provides a +3% speed boost.
Variants
Trivia
This is the second beard item to be released, the first being Santa's Beard.
It seems to merely be a recolor of the original Santa's beard.
Media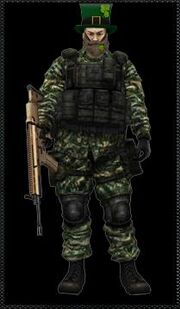 Ad blocker interference detected!
Wikia is a free-to-use site that makes money from advertising. We have a modified experience for viewers using ad blockers

Wikia is not accessible if you've made further modifications. Remove the custom ad blocker rule(s) and the page will load as expected.