Leaked Content
Talk

509
2,289pages on
this wiki
| | |
| --- | --- |
| | Some of the information in this article is unconfirmed. Maintain caution. |
Leaked Content is information on unreleased content made known before its official release.
Keep in mind that content leaks do not ensure that specific content will be released at any time in the near future, nor be made available to all regional servers.
Recently Leaked
Edit
(Please limit the content on this article to the three most recent findings, and make sure to maintain a uniform neatness for each batch of information. With the discovery of every 4th leak, the previous three must be archived in order to avoid page clutter.)
Infected Ship (PvE)
Edit
https://www.facebook.com/photo.php?fbid=10152068862837095&set=a.401965457094.208456.283939262094&type=1&relevant_count=1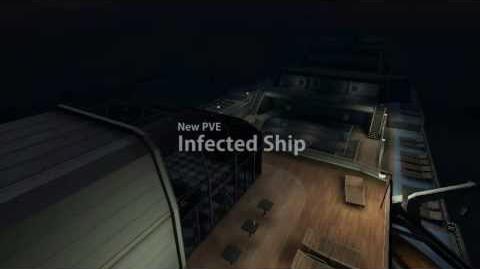 Phoenix Set
Edit
Leaked on the Combat Arms Europe's Dev. Blog (Source )
Currently known Phoenix Items:
-Phoenix G36E Valkyrie
-Phoenix MG21E Steel
-Phoenix Tomahawk
-Phoenix Assault vest
-Phoenix IBH Mk2 SEAL
There will probably also be another set released, the Snake skin set. 
"So, I asked Developer Desperado about it, and he told me that they are planning to develop another Set Item based on an idea from the player WaiNoX, and the concept is... http://file.nexoneu.com/Uploaded/EN/event/contents/635204590202019412.jpg ~Combat Arms EU Dev. blog
Black Dragon Weapons
Edit
Furthermore, a 'Black Dragon Skin' set has been implied to have been developed in Combat Arms North America, currently given only to Sudden Attack players who migrated into Combat Arms following the former's closure... http://combatarms.nexon.net/home/newsdetail/?contentNo=00HMS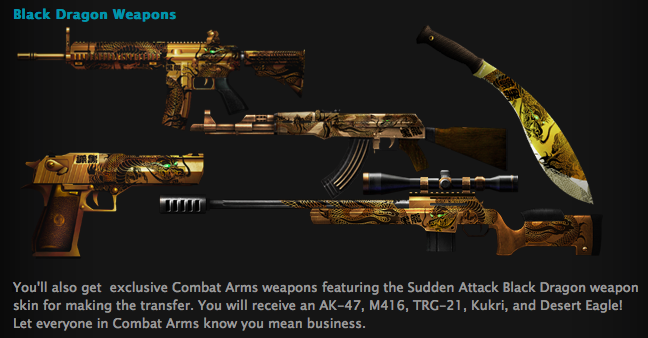 Previous Leaks
Edit
Here is an archive of previously-leaked content.
Nexon's Terms of Service has been amended, now stating that any modification and/or access to the game files is considered a bannable offense. Therefore, any leaked content posted on the official Nexon Forums will be removed, and the guilty party suspended. Other sites with leaked content are not under the Nexon's jurisdiction, and cannot be held accountable.
A large percentage of leaked content is released in-between major Content Updates. It often resides within the game files, and is usually released as part of the monthly Supply Drop.