This is a historical page that documents Weapons, Gear, Modes, Maps, Sales, or Events that are no longer available, and as such, information should only be added.
"

Attention, Soldiers! Not all conflicts happen on battlefield, some happen on the gridiron! Starting 1/28 to 2/12, we will be offering a Super event to celebrate all things football that will Bowl you over!

"



 

— Combat Arms Command 
Gridiron Warfare 3 was an event held on January 28, 2015 to Feburary 12, 2015.
Overview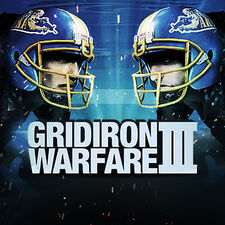 Players had to collect "Gridrion Badges" to recieve rewards from the event. The more Gridiron Badges collected, the bigger the prize!
Players could obtain Gridiron Badges by:
Logging in every day during the event (one badge)
Complete the first Daily Job every day of the event (one badge)
Complete the second Daily Job in one day (two badges)
Complete the third Daily Job in one day (three badges)
The Roulette Wheel after a match
Gridiron Ghost HiSec Cases replaced Ghost HiSec Cases during the event, as well their drop rate being doubled.
Rewards
Players had to complete Scavenger Jobs in order to recieve the rewards. This could be done anytime during the event period.
15 Gridiron Badges - 30-day Gridiron Guard and 7-day Gridiron Grenade
25 Gridiron Badges - 90-day Gridiron Guard and 30-day Gridiron Grenade
50 Gridiron Badges- 90-day Gridiron Guard, 90-day Gridiron Grenade and 1 Supply Crate MYST-Weapon
References
Ad blocker interference detected!
Wikia is a free-to-use site that makes money from advertising. We have a modified experience for viewers using ad blockers

Wikia is not accessible if you've made further modifications. Remove the custom ad blocker rule(s) and the page will load as expected.