| | |
| --- | --- |
| | This article is need of a Rewrite. You can help out the CAWiki by re-writing the article. The talk page may contain suggestions. |
This is a historical page that documents Weapons, Gear, Modes, Maps, Sales, or Events that are no longer available, and as such, information should only be added.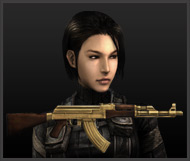 The Golden Mei Pack is a promotional package that was available in the Black Market during the week of 11/26/09 to 12/3/09 for 16,900 NX (instead of 21,800 NX) and included the Mercenary Mei for 30 days and the AK-47 Gold Plated for 90 days.
This is one of the 13 "packages" that users could save more NX on, for buying the two items separately would cost more than the package.
Ad blocker interference detected!
Wikia is a free-to-use site that makes money from advertising. We have a modified experience for viewers using ad blockers

Wikia is not accessible if you've made further modifications. Remove the custom ad blocker rule(s) and the page will load as expected.