Gold Coin
Information




NX cost

1 Use - 700 NX

5 Uses - 3,300 NX

10 Uses - 6,100 NX

15 Uses - 8,800 NX

Popularity

Unknown
The Gold Coin is a premium item currently only available in Combat Arms Europe.
Overview
The Gold Coin is an upgrade of the Silver Coin. Players have a chance to win this item from playing in elite moderator and super elite moderator rooms or by buying them directly from the shop. Rare items can be won from the Wheel of Fate.
Trivia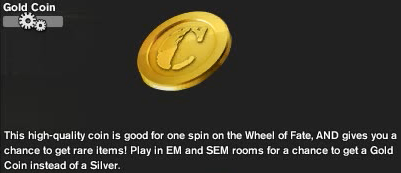 Ad blocker interference detected!
Wikia is a free-to-use site that makes money from advertising. We have a modified experience for viewers using ad blockers

Wikia is not accessible if you've made further modifications. Remove the custom ad blocker rule(s) and the page will load as expected.