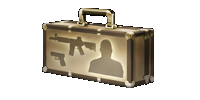 Gold Case
Information
A case that appeared in the Silver and Gold Case Event.
It contains a large amout of items, including various amounts of GP. All Items are obtained for 3 days, except M416 CQB and Mei, which are obtained for 90 days.
The chance of getting an item or weapon over a GP reward is much lower than other cases with GP and Item rewards (i.e Bronze, Silver and Gold Homerun Cases)
Case Contents
M416 CQB (90 Days)
Mei (90 Days)
1.000 GP
2.000 GP
3.000 GP
5.000 GP
10.000 GP
Ad blocker interference detected!
Wikia is a free-to-use site that makes money from advertising. We have a modified experience for viewers using ad blockers

Wikia is not accessible if you've made further modifications. Remove the custom ad blocker rule(s) and the page will load as expected.