A Gift option was added during the 12-16-08 Patch for NX items in the Black Market. This allowed players to "buy" NX items and send them to any valid players. GP items are now allowed to be gifted for the month of October 2010.
When one gifts to another, their birthday that they used to make their profile is needed to verify that the real player is using this profile, not a scammer or hacker. After gifting, the one who receives it would be notified and their Inbox would have the gift, and they may wish to activate anytime they want.
As of late, Nexon has been sending out gifts to players (such as Supply Cases and Holiday Items) after participating in a event, or just for the seasonal spirit. However, most of those items are temporary, meaning if these items don't get activated soon, they would expire and be taken out of your inbox.
Nx Gifting
Edit
To gift Nx Items you have to use Nx Prepaid
NX Prepaid
Charged via Nexon Game Cards and PayByCash, has no limitations on in-game item purchases, other than game level restrictions.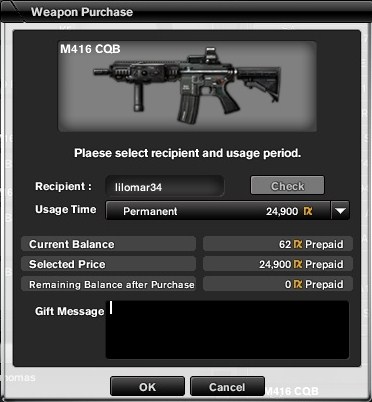 Restrictions
Edit
NX Credit Charged via PayPal, Earn Free NX, and Charge Mobile, NX Credit is restricted from purchasing certain items in Nexon games. Full details are under NX Credit Restrictions.
In order to fight fraud within our games, please note that gifting is not allowed with NX Credit. Below you will find specific restrictions in each of our games.
Combat Arms

Supply Case GP - Hazard, Supply Crate MYST-N, Black HiSec Key, Weapon Renewal Kit, Respawn Token cannot be purchased with NX Credit until players reach the Master Sergeant (I) rank.
GP Gifting
Edit
•You must be at least Staff Sergeant I in order to gift items for GP
•Both the gifting and receiving player must meet the rank requirement of the item being gifted. For example, you can only gift G36E if both you and the gifted player are at least Sergeant.
•90 day and Permanent durations for GP items cannot be gifted at this time.
•A 10% commision fee is automatically added to the cost of the item being gifted.
•Clan items cannot be gifted
•You can gift GP Modifications (Scopes, Magazines, Suppressors).