Gewehr 43
Information







Restrictions

Gun Emporium Forging

Popularity

Low

Ammo capacity

20/80

Statistics

| | |
| --- | --- |
| Damage | 48 |
| Portability | 55 |
| Rate of Fire | 53 |
| Accuracy | 90 |
| Recoil | 70 |

Firing modes
Modifications
"

A replica of one of Germany's iconic rifles in World War 2, rapidly developed to imitate and counter the Soviets' powerful SVT-40.

"



 

— The Arsenal 
Overview
The Gewehr 43 (or Karabiner 43, often abbreviated as G43), is a German semi-automatic rifle developed in World War II. Developed after comparing combat effectiveness between bolt-action and semi-automatic rifles, the Gewehr 43 is an improved version of the earlier Gewehr 41, housing a gas system similar to that of the Soviet SVT-40. Having a detachable 20-round magazine, high-power, high-accuracy, and fairly good shot recovery, it is an exceptional rifle in use of the right hands. It can be fitted with all attachments, to suit the user's needs.
Gewehr 43 can be forged with a standard G36E and 7 Replica Pallets.
Variants
Trivia
Only the GP Standard G36E can be forged into a Gewehr 43.
Media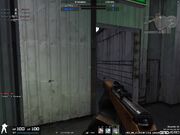 Ad blocker interference detected!
Wikia is a free-to-use site that makes money from advertising. We have a modified experience for viewers using ad blockers

Wikia is not accessible if you've made further modifications. Remove the custom ad blocker rule(s) and the page will load as expected.