This is a historical page that documents Weapons, Gear, Modes, Maps, Sales, or Events that are no longer available, and as such, information should only be added.

The 1st Anniversary Gear (formerly spelled as First) are a special collective set of items which were released in celebration of Combat Arms' 1st Anniversary (July '09).
Theme
The 1st Anniv. Gear features a fiery inferno theme (resembling common biker/desperado patterns).
Overview
The set includes the First Anniversary Bandana, First Anniversary Cap, and the First Anniversary Backpack (in order on when did they were given). The items themselves are rather disappointing to many players, for they are only Cosmetic Variants with no statistical advantage. but players wear them anyways to show their Combat Arms pride.
When they were released, players had to log in at a specific time in order to recieve them. To those who didn't get the items, Nexon gave the community another chance; by making players complete at least 100 games (each game must be completely finished; no quitting) before July 2009 ended. As a result, players were rewarded with a 90-day version of each item. Note that they were not released Permanantly the first time.
The 1st Anniversary Backpack is a standard backpack with red flames near the bottom and the "1ST Annivesary Combat Arms" insignia in the middle.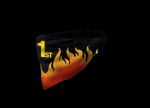 The 1st Anniversary Bandana is a black bandana with red flames and the "1ST" insignia written in bold yellow where it is covering the mouth/nose.
A cosmetic variant of the Black Cap, the 1st Anniv. Cap has a red flame design on the sides of the cap and the characters: "1ST Anniversary" written in bold yellow on the front. It is known to increase speed by 1%.
Trivia
These items were the first Anniversary Items ever released.
They are also the only Anniversary Items to be released more than once.
They are also the only Anniversary Items not to be released (permanently) during their respective Anniversary.
They are also the only Anniversary Items that could be rewarded to someone who didn't attend the respective Anniversary event could get them (basically anyone).
These are the only notable items that have been re-released under a different name (the First was changed to a "1st" to match the 2nd Anniversary Gear).
These items were given out for permanent duration (except for the backpack) during Black Friday 2010.
Ad blocker interference detected!
Wikia is a free-to-use site that makes money from advertising. We have a modified experience for viewers using ad blockers

Wikia is not accessible if you've made further modifications. Remove the custom ad blocker rule(s) and the page will load as expected.