Note: This is an April Fools Joke.
"

Are you a weary soldier, sick and tired of grueling battle? Look no further!

Combat Arms is proud to announce the launch of Nexon America's newest Social Game, Combat Farms on April 18, 2011!

Combat Farms will allow you to enjoy the spirit of Combat Arms that you love so much, with none of the action! Instead, your mercenaries will be lost in the peace and solitude only time-sensitive farming provides.

So get throw on some overalls and a straw hat, grab a new Tractor or Horse from the Black Market, and get the most out of your acres!

"



 

— Attribution 


"Combat Farms is an intense, online social game, which also happens to be Nexon's first-ever FPF (First Person Farming) game!"
Features
Combat Farms features "dynamic" gameplay features, such as:
The Farmer's Market
"

Those City-Folk love anything organic! Take your crops to the Farmer's Market to trade in some corn cobs for a new shovel or an AK-47!

"



 

— Attribution 
The Farmer's Market is a place where you can trade in your crops, for GP; or weapons, such as the AK-47. Based on the TS version of the Gun Emporium.
The County Fair
"

Think you've got the biggest gourds around? Better step up or shut up! Take your crops down to the County Fair and weigh in against your friends to see if you can snag the Blue Ribbon!

"



 

— Attribution 
The County Fair is a place where you can have contests with your friends, comparing crops and winning ribbons. Also based on the Gun Emporium/Black Market.
Farming Regen
"

All the fun of monitoring soil pH levels, driving a pickup truck and working up a sweat digging up vegetables—plus the Infected! See how long you can keep your farm going amidst attacks from the Infected!

"



 

— Attribution 
Farming Regen is a farm where you work on crops, while defending your farm from the Infected. It is seemingly based on Plants Vs. Zombies.
Coming Soon!
"

Stay tuned to [combatarms.nexon.net] for future updates, and check out the new "Farmer's Almanac" page for tips on what to expect with upcoming weather!

"



 

— Attribution 
International Crops
"

International crops! Give soy, lentils, and even rice a try! Don't forget to pick up some extra plots of land and government subsidies to prepare for your new International Crops.

"



 

— Attribution 
Trivia
This joke appears to be based on FarmVille, which was popular at the time of its release.
Future Hall of Famer Klypto was mistakenly banned for "Hacking/Botting" at the time of this event.
Media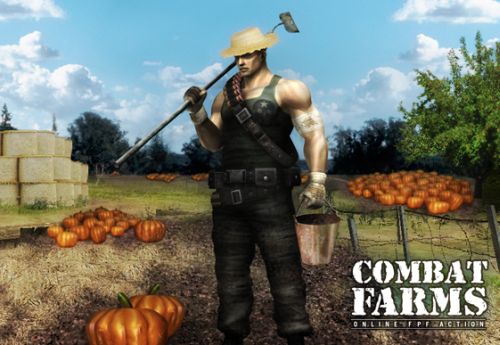 Ad blocker interference detected!
Wikia is a free-to-use site that makes money from advertising. We have a modified experience for viewers using ad blockers

Wikia is not accessible if you've made further modifications. Remove the custom ad blocker rule(s) and the page will load as expected.