Welcome to the Combat Arms Wiki
The Combat Arms encyclopedia that anyone can edit.
Welcome to the Combat Arms Wiki, the definitive source of the latest information on Combat Arms. We are currently working on 2,676 different articles, and you can contribute.
Please understand that the information on this site is continuously edited for precision. We do our best to confirm and verify any information that comes our way before we add it to our site, and errors and opinions are removed every day.
If we miss anything, please don't hesitate to point it out - or even assist us by fixing it yourself.
Brief Rules
No Harassment or Profanity
No Malicious Editing
No Spam or Advertising
No Online Chat Abuse
No Ban Evasions
No Misuse of Privileges
No Support of Illegitimate Gameplay
In case of an emergency---or if you are simply unsure of what to do---please contact the CAWiki Administration.
With all that aside, remember to check in with our site and stay up-to-date with the latest Combat Arms news!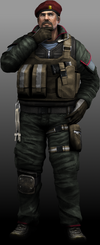 "

Once a lieutenant in JSF's anti-terrorist unit, he left the military after his family's mysterious deaths in a car accident. The truth of his wife's former employment in Coleman's laboratories led him to join Warcorp in the hopes of learning more.

"



 

— The Arsenal 
Rocco is a male Mercenary who was released after the 6-15-12 Patch. His original version is Classic Rocco. He can be purchased in the Shop (with a rank restriction of Command Sergeant Major/III).
Rocco wears a Balanced Vest that provides +10% Protection, at the cost of -3% Speed. Like any other Mercenary, one cannot equip a Vest or Uniform whilst using Rocco...

What are your thoughts on the new map, Tower Bridge?