Welcome to the Combat Arms Wiki
The Combat Arms encyclopedia that anyone can edit.
Welcome to the Combat Arms Wiki, the definitive source of the latest information on Combat Arms. We are currently working on 3,026 different articles, and you can contribute.
Please understand that the information on this site is continuously edited for precision. We do our best to confirm and verify any information that comes our way before we add it to our site, and errors and opinions are removed every day.
If we miss anything, please don't hesitate to point it out - or even assist us by fixing it yourself.
Brief Rules
No Harassment or Profanity
No Malicious Editing
No Spam or Advertising
No Online Chat Abuse
No Ban Evasions
No Misuse of Privileges
No Support of Illegitimate Gameplay
In case of an emergency---or if you are simply unsure of what to do---please contact the CAWiki Administration.
With all that aside, remember to check in with our site and stay up-to-date with the latest Combat Arms news!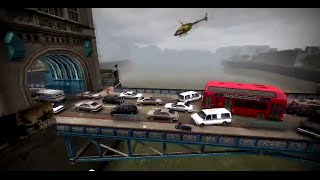 "

Overpower the militants who attacked cash transport vehicle on Tower Bridge. Get their identities, and find out their motive!

"



 

— Map Description 
Tower Bridge is Combat Arms' 54th map. It literally takes place at Tower Bridge, one of London's bridges in real life.
After the events of Roadkill, a group of prisoners have escaped and attacked a cash transport vehicle in the process. Luckily, the police were able to stop their escape quickly. However, with such a powerful weapon they possess, it induced a war between the armed militants and the police. They are currently resisting against police forces right on the bridge. It caused traffic vehicles to scatter all over the bridge, creating chaos. It turned the bridge from what was once a peaceful commute into a ground of warfare. Cars were burned and a symphony of car alarms were set off. A local news helicopter is live at the scene, flying around the bridge. News reported that the bloodshed combat will take hours before it would be resolved.


How do you feel about Combat Arms now compared to when you first starting playing it?
Ad blocker interference detected!
Wikia is a free-to-use site that makes money from advertising. We have a modified experience for viewers using ad blockers

Wikia is not accessible if you've made further modifications. Remove the custom ad blocker rule(s) and the page will load as expected.