Home
Talk

60
2,429pages on
this wiki
Welcome to the Combat Arms Wiki
The Combat Arms encyclopedia that anyone can edit.
Welcome to the Combat Arms Wiki, the definitive source of the latest information on Combat Arms. We are currently working on 2,429 different articles, and you can contribute.
Please understand that the information on this site is continuously edited for precision. We do our best to confirm and verify any information that comes our way before we add it to our site, and errors and opinions are removed every day.
If we miss anything, please don't hesitate to point it out - or even assist us by fixing it yourself.
Brief Rules
No Harassment or Profanity
No Malicious Editing
No Spam or Advertising
No Online Chat Abuse
No Ban Evasions
No Misuse of Privileges
No Support of Illegitimate Gameplay
In case of an emergency---or if you are simply unsure of what to do---please contact the CAWiki Administration.
With all that aside, remember to check in with our site and stay up-to-date with the latest Combat Arms news!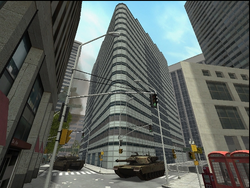 "

When NEMEXIS tanks and paratroopers enter the city of New Pax , the World Federation seizes the opportunity to disable their army of vehicles with an EMP bomb. Now, JSF forces must fight to the city center before the tanks regain mobility and construct an impenetrable barrier.

"



 

— Original map description 
Featured prominently in the NEMEXIS story-line, Combat Arms' 42nd, and biggest map, was first released with the 12-13-12 Patch, on December 13, 2012. Being both large and in an urban environment the map bears many similarities to Short Fuse and Ghost Town. Furthermore, various military vehicles are scattered in and around the city, due to the recent NEMEXIS invasion and subsequent World Federation Organization EMP bomb, similar to the vehicles on the map Roadkill.
Does the addition of Rare and Special weapons in the Arms Race roster encourage you to play that game mode more often?
Hello DreamSandwich here aka Elfa-(ign).Gosh,Hauser's rpg is so worth which means I could no longer wait for a perm autumn law.I bought for perm and I love it soo much :3.Time for spamming sensation!

Anyone bought a perm Hauser's rpg7 or used it?Btw it's on sale with 15920 NX for now until I think the end of April but it's best getting this

Read more >

Hallo, Freund! Ich heiße LunarWing, oder -HDN-Nepgear in Combat Arms. (Hello, friend! I am called LunarWing, or -HDN-Nepgear in Combat Arms.)

Let's skip the German.

I've got a proposition for you! This is a prize for... let's say... 15 Renewal Kits. Why not?

So the way to win is to thoroughly review one of the following weapons and make it convincing enough so that I can imagine how the gun works without me having to use it. Although... I've extensively used these already.

You have to identify the pros and cons of what you want to review. If I can find another pro or con to the weapon that you have NOT listed, you lose a brownie point (this means you lose.)

You can identify pros and cons OR you can compare it to a previous variant... but that ha…

Read more >