This is a historical page that documents Weapons, Gear, Modes, Maps, Sales, or Events that are no longer available, and as such, information should only be added.

"

On July 11th, 2008, Combat Arms was first released with a few game modes, a few maps and only a few dozen weapons. In the past five years, we have grown larger, added dozens of new features, maps, game modes and hundreds of new weapons. We here at Combat Arms Command are endlessly proud of one of the original Free to Play Shooters and of the wide variety of weapons and playstyles available here, and are looking forward to yet another year of mayhem!

"



 

— Combat Arms Command 

The 5th Anniversary Celebration was an Anniversary Event that occurred from July 11th through July 31st, 2013.
Events
5th Anniversary Login Challenge
"

Do you have the intestinal fortitude to show up for war? Starting July 11th, we're putting on a login challenge! All you have to do is log in to get your free permanent gear. Show us you've got the guts to stick around for the long haul, and you'll even get yourself a set of Elite permanent items!

"



 

— Combat Arms Command 

From July 11th to July 31st, players who logged in a certain amount of times would have received a piece of the 5th Anniversary Gear. The requirements for each gear items were as followed: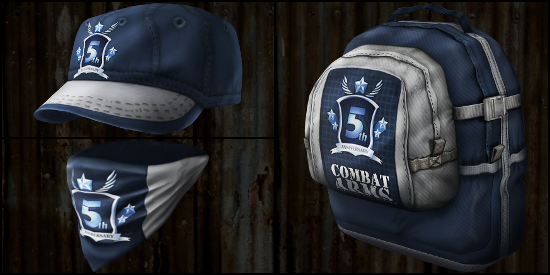 Roulette Bonus
"

Want to try out the Elite 5th Anniversary gear before the final week? We're giving you a chance by putting the 5th Anniversary gear on the Roulette wheel over the next three weeks!

"



 

— Combat Arms Command 

From July 11th to July 31st, the Roulette Wheel featured the Elite versions of the 5th Anniversary Gear.
Media
References
Ad blocker interference detected!
Wikia is a free-to-use site that makes money from advertising. We have a modified experience for viewers using ad blockers

Wikia is not accessible if you've made further modifications. Remove the custom ad blocker rule(s) and the page will load as expected.