Clan Backpack
Comments

0
2,271pages on
this wiki
Clan Backpack

GP cost

1 Day - 900 GP
7 Days - 4,410 GP
30 Days - 17,550 GP
90 Days - 48,600 GP

Restrictions

Clan Level 3

Restricted

Popularity

Above Average

Features

Weapon Slots +3

Speed -5%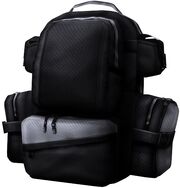 "

A high capacity, clan-exclusive backpack that allows you to carry three additional weapons and/or equipment items into battle. Its weight incurs a slight movement penalty.

"



 

— The Arsenal 
The Clan Backpack is a Clan-exclusive gear item added on the 7/1/10 Patch. The Clan Backpack features three slots and a -5% speed reduction. It is nothing more than a variant of the Utility Backpack. The only difference between the two is that the Utility Backpack can be obtainable at the rank or above of First Lieutenant, while the Clan Backpack can be obtained if the Player is in a Level 3+ Clan.
When purchased, the Clan Backpack will feature the player's clan emblem on it if the clan has one. If a player purchases the clan backpack and then leaves the clan, the backpack will look exactly like the one shown to the right. 
The Clan Backpack is currently the only "plain" backpack in the game; disregarding clan emblems (since it doesn't have any special designs or camouflage).
It is currently the only Clan Variant of the Utility Backpack or any backpack for that matter.