Clan Backpack
Comments

0
2,129pages on
this wiki
Clan Backpack

GP cost

1 Day - 900 GP
7 Days - 4,410 GP
30 Days - 17,550 GP
90 Days - 48,600 GP

Restrictions

Clan Level 3

Restricted

Popularity

Above Average

Features

Weapon Slots +3

Speed -5%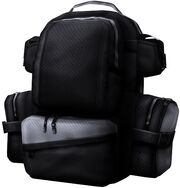 "

A high capacity, clan-exclusive backpack that allows you to carry three additional weapons and/or equipment items into battle. Its weight incurs a slight movement penalty.

"



 

— The Arsenal 
The Clan Backpack is a Clan only gear added on the 7/1/10 Patch. The Clan Backpack features a 3 slot and a -5% speed reduction. It is nothing more than a variant of the Utility Backpack. The only difference between the two is that the Utility Backpack can be obtainable at the rank or above of First Lieutenant , while the Clan Backpack can be obtained if the Player is in a Level 3+ Clan.
When purchased, the Clan Backpack will feature the player's clan emblem on it.
The Clan Backpack is currently the only "plain" backpack in the game; disregarding clan emblems (since it doesn't have any special designs or camouflage).
It is currently the only Clan Variant of the Utility Backpack.