This is a historical page that documents Weapons, Gear, Modes, Maps, Sales, or Events that are no longer available, and as such, information should only be added.
"

Hola, soldiers!

Happy Cinco De Mayo! Get some extra EXP and GP from Thursday, May 5th at 11:00 AM until Sunday, May 8th at 11:59 PM PDT. Enjoy: +100% EXP and +100% GP on ALL servers and ALL modes, ALL weekend long! On top of that, each day that you login from May 5th - 8th you'll receive a FREE Patriot Skull Mask (MEX) for 1 day!

What:

+100% EXP and GP on ALL servers.

This is on top of the Spring Training bonus as well!

Log in starting at 11:00 AM PDT on Thursday, May 5th and each day, May 6th - 8th and receive a FREE Patriot Skull Mask (MEX) for 1 day! You can get another mask each day that you login.

"



 

— Combat Arms Command 
The Cinco De May Event was an Event held during the 6th-9th May 2011. This event was dedicated to celebrate the Spanish holiday, Cinco De Mayo. Players who logged in during the event would recieve a Patriot Skull Mask (Mexico) for one day.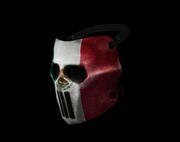 Ad blocker interference detected!
Wikia is a free-to-use site that makes money from advertising. We have a modified experience for viewers using ad blockers

Wikia is not accessible if you've made further modifications. Remove the custom ad blocker rule(s) and the page will load as expected.