CA 3.0 Dog Tags
Comments

23
2,412pages on
this wiki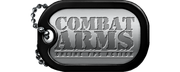 CA 3.0 Dog Tags are items that are collected to be traded in for rewards in The Emporium. 
To access the rewards go to the Jobs tab and then choose Scavenger Jobs. All of these jobs are available regardless of rank.
Dog Tag cases would be given after purchasing Supply Crates MYST-N+. They contain a random amount of Dog Tags.
Dog Tags were added back to the game on November 21st, 2013. The only noticeable change was the fact that the AR-15 Double Barrel had been replaced with the TPG-1 Master.