Blue Sickle
Information




NX cost

1 Day - 350 NX

7 Days - 1,400 NX

30 Days - 2,900 NX

90 Days - 4,900 NX

Permanent - 9,900 NX

Popularity

Unknown

Features

Melee Damage

Ammo capacity

Infinite

Statistics
Firing modes

Horizontal Slash (Primary attack)

Stab (Secondary attack)

Modifications

None
"

A tool used to cut away grass. Spec Ops are using the sickle for CQC battles which use common household items. Syhill developed this impressive looking blue skin

"



 

— Item Description 
Thanks to our user Syhill, we are introducing two new weapons based on a user design!
Syhill created the basic design for this weapon, which inspired the Green Sickle, Blue Sickle and Red Sickle version. Check out these great guns on 22th July and let us know what you think!
Overview
The Blue Sickle, is a cosmetic variant of the Sickle. It's the fifth cosmetic variant designed by a player.
Variants
Trivia
Is the fifth variant made by a player to appear officially on the Game.
Gallery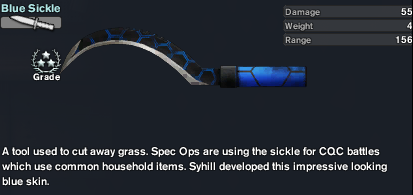 References
http://combatarms.nexon.net/News/UpdateView.aspx?boardidx=731&pagenum=0&searchtype=Title&searchkey=
Ad blocker interference detected!
Wikia is a free-to-use site that makes money from advertising. We have a modified experience for viewers using ad blockers

Wikia is not accessible if you've made further modifications. Remove the custom ad blocker rule(s) and the page will load as expected.