This is a historical page that documents Weapons, Gear, Modes, Maps, Sales, or Events that are no longer available, and as such, information should only be added.
"

Attention Soldiers!

Do you want 4x EXP and GP on all servers? FREE items? Exclusive packages full of your favorite items at unbelievable discounts? Well all of those and more can be yours this year…but you'll have to play for it!

November is here, and that means two things…delicious food, and Black Friday Sales! This year, we're leaving Black Friday Sales up to you.

You, soldiers, are responsible for unlocking the Black Friday Sale of your dreams, so get to the battlefield!

The more you play the more sale items you will unlock. Not only that, the more you play, the bigger the discounts become! Discounts start off great, but they get bigger and crazier…you'll have to see it to believe it.

"



 

— Combat Arms Command 
This is a public event! The total time that is played during 11/3 to 11/21 (extended to 11/22) will be displayed by a meter on the right side of the Combat Arms Website. The sales will start on November 26th, specific times will be announced soon. There are 5 ranks on the Black Friday meter, each increasing in discounts. These sales are for everyone! Rank does not affect participation in the sales.
The more everyone plays, the more discounts everyone will unlock!
Ranks
On 11/6/10, the Grunt row was unlocked, featuring sales at 40% off:
On 11/11/10, the Field Officer row was unlocked, featuring sales at 45% off:

On 11/15/10, the Commission Officer row was unlocked, featuring sales at 50% off:

On 11/18/10, the Command Officer row was unlocked, featuring sales at 75% off:

On 11/23/10, the General row was unlocked, featuring free stuff:
Event Sales
"

Congratulations Soldiers!

It took some hard work and dedication, but you did it! You pulled through and unlocked the entire 2010 Black Friday Sale! Let's cut to the chase, here is everything you'll need to know to make the most of your Black Friday:

When:

November 26th at 11:00 am PST to November 29th at 11:00 am PST

"



 

— Combat Arms Command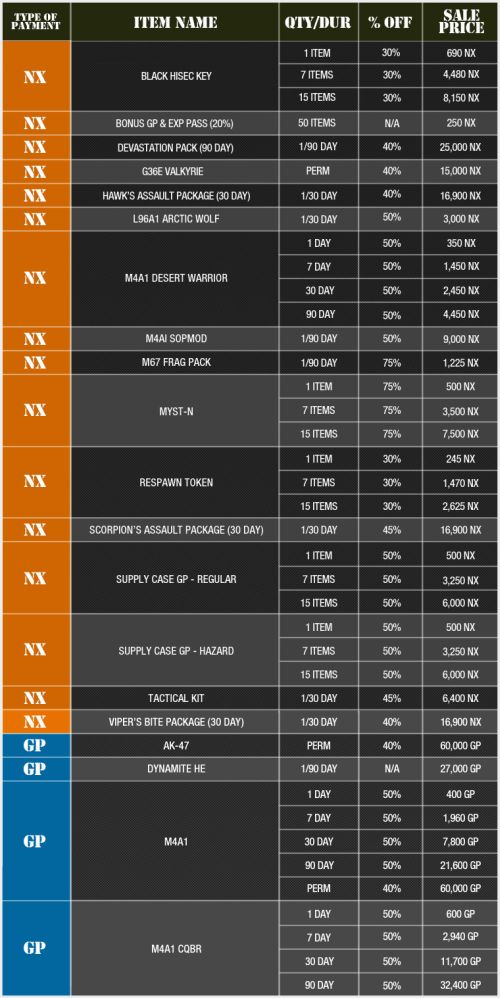 Ad blocker interference detected!
Wikia is a free-to-use site that makes money from advertising. We have a modified experience for viewers using ad blockers

Wikia is not accessible if you've made further modifications. Remove the custom ad blocker rule(s) and the page will load as expected.