The 8-06-08 Patch (6th of August) contained many new features, and cleansed Combat Arms of the sudden surge of hackers right before, at least, for a short period.
Patch Additions
| Type | Name |
| --- | --- |
| Map | |
| GP Weapons | |
| GP Weapons | |
Full Update Notes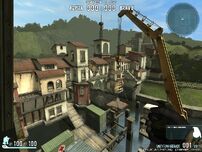 "

The fight just got a lot more vertical! The enemy's nearby comm tower and its signal jamming device is blocking all attempts to contact a stranded battalion in this area. Eliminate all hostile personnel in the area, and restore communications!

"



 

— Patch Note 
Available Missions:

New Additions to the Item Shop:
Also:
Corrected issues that allowed abusers to use hacks to exploit invalid match types and illegally access gear.
</div>
Ad blocker interference detected!
Wikia is a free-to-use site that makes money from advertising. We have a modified experience for viewers using ad blockers

Wikia is not accessible if you've made further modifications. Remove the custom ad blocker rule(s) and the page will load as expected.