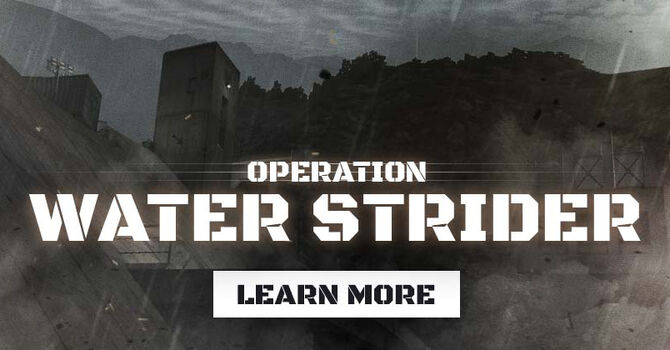 "

Welcome to Operation: Water Strider!
We're all treats and no tricks this October, with a new Operative (finally!), a Halloween 5-Shot event, a whopping huge water slide map, and tons more. Read on for all the gory details.

"



 
— Combat Arms Command 

Operation: Water Strider was a Content Update that occurred on the October 11, 2013.
Patch Additions
Bug Fixes and Other Changes
Changes Made in the 10-16-13 Content Update:
VIP Escort : The VIP's Sprint Speed has been significantly reduced.
Fixed an issue that could cause extremely long messages to spill out of the minimized chat box.
Known Issues
Windows 8.1: Launching Combat Arms in Windows 8.1 with some video cards (such as the GeForce GTS 450) may cause significant display issues. If you have updated to Windows 8.1, please make sure the drivers for your Video Card is up to date, and if you still experience problems, please leave us a note on Technical Support Forums with your Video Card information.
References
Combat Arms Command. "Operation: Water Strider Notes" Combat Arms News 16th of October, 2013. http://combatarms.nexon.net/home/newsdetail/?contentNo=00HDA
Ad blocker interference detected!
Wikia is a free-to-use site that makes money from advertising. We have a modified experience for viewers using ad blockers

Wikia is not accessible if you've made further modifications. Remove the custom ad blocker rule(s) and the page will load as expected.