Operation: Red Canyon was a Content Update on January 16, 2013. It started and ended at the following times:
Pacific: 7:00 AM - 4:00 PM
Eastern: 10:00 AM - 7:00 PM
Australia (Sydney): 2:00 AM - 11:00 AM, January 17th
New Additions
| Type | Name |
| --- | --- |
| Map | |
| Supply Crate | |
| GP Weapons | |
| NX Rare Weapons | |
| Event | |
Full Update Notes
Attention Soldiers
Welcome to Operation: Red Canyon! It's our first content update of 2013, and this month we're focused on giving you more ground to fight over and a few more guns too! Take a look below for all the changes that have come to Operation: Red Canyon!
New Map: Red Canyon
Combat Arms' 43rd map is here, and you're heading into Red Canyon to secure this hidden base!
In the great canyons north of the World Federation, a climber stumbles upon a suspicious facility. The World Federation's JSF concludes that this is a secret base operated by the Third World Union's Creed. Special Forces are dispatched to raid the base and collect evidence of Creed's illicit activities.
Occasional sniping positions aside, this is very much a close-quarters favoring map. The twisted interior of the base will make sniper rifles mostly useless, greatly favoring traps, ambushes and large collections of mines. This is definitely a map where you'll want to keep a shotgun or submachine gun on hand!
Allowed Game Modes:
Updates to Slaughterhouse and Piazza!
Slaughterhouse and Piazza have finally joined the ranks of full-fledged Combat Arms maps!
With our next update, Piazza will now be available for Clan Matches in Elimination, Elimination Pro and Capture the Flag!
But the bigger update is for Slaughterhouse! With a few changes to support the non-Search And Destroy game modes, Slaughterhouse will now be available in all of the following game modes:
Elimination
Elimination Pro
Search and Destroy
One Man Army
Spy Hunt
Last Man Standing
Add in Red Canyon, you'll have plenty of new ground to fight over this month!
New MYST-ABC: Supply Crate MYST-Whiskey!
As with every update for the 22 months, we have a new MYST-ABC for you, this time the Supply Crate MYST-Whiskey! And, as with every MYST-ABC, this one has new NX-Rares and even an Epic, unique to this crate!
Click here for more information on the MYST-Whiskey, and remember: For the first week, the MYST-Whiskey is 20% off!
New Event: Secret Intel Event
From now until the January 23rd maintenance, we're putting on the Secret Intel Event, giving you a huge bonus when going for those HiSec Cases !
Check out the event post for all the details!
New GP Weapons!
Of course, what's a Combat Arms content update without a couple new GP weapons to play around with?
(UPDATE: Due to an issue with the MINIMI CAMO , it has been removed from the shop . We apologize for the inconvenience, and will re-release the machine gun once the issue has been resolved.)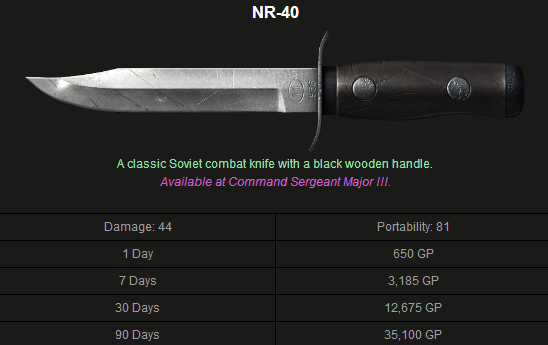 Other Changes
Bug Fixes
Adjusted the collision in Neptune on Quarantine , to make it easier to move onto and off of the submarine.
"Permanent" tags now appear properly in the Cosmetic Item inventory screen.
The MSR now has the correct magazine size when Fast Loader magazine modifications are equipped.
Specialist Abilities are now properly unequipped after the equipped Specialist character expires.
Purchasing and equipping GP items when a character-specific cosmetic item is equipped will no longer cause the game to crash.
Trivia
The Patch was originally intended to last 7 hours, but was extended by 1 hour.

It was extended again by 1.5 hours (90 minutes).
As compensation, all servers were boosted by +100% EXP & GP until 5am PST.
References
Combat Arms Command. "Operation: Red Canyon Update Notes" Combat Arms News January 16 2013. http://combatarms.nexon.net/News/View.aspx?boardNo=101&contentNo=00Fe4&pageIndex=1
Ad blocker interference detected!
Wikia is a free-to-use site that makes money from advertising. We have a modified experience for viewers using ad blockers

Wikia is not accessible if you've made further modifications. Remove the custom ad blocker rule(s) and the page will load as expected.